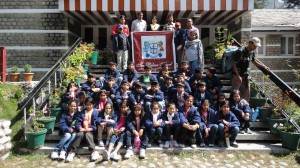 In line with the Palace School ethos an educational cum  adventure tour was planned to Himachal Pradesh and adjoining hills.
Imagine an exposure of Hills, snow and altitude, fast flowing rivulets and a completely different culture as compared to the plains and arid land of Rajasthan. The students of classes IV to VI thoroughly enjoyed visiting places like Manali, Kullu, Rohtang Pass, Solang Valley and Chandigarh. They were awestruck by the natural beauty of the places they visited. They reveled in adventure activities like trekking, river crossing and rafting. The adrenaline rush due to the adventurous activities in the scenic locales made for an unforgettable experinece for the energetic and effervescent youngsters of The Palace School.
They also had the rare opportunity to meet Col. Premchand ,the first man to climb Kanchenjunga, the highest peak of India and       Sh.  Nekchand , creator  and director of Rock Garden , Chandigarh. Both the eminent personalities had such valuable bits of information and knowledge to share with the fertile young minds  and each student felt greatly inspired and motivated .
For most of the children it was an eye opener to see a different  dimension of nature than the browns of Rajasthan and also first time to stay away from the comfort zones of their own homes. The independence , skill and the will required to be a mature and and responsible person was well learnt and exihibited by all the students.
It was indeed a great learning cum fun experience for them.