Declamation Competition
Students of Class VII of our participated with great zeal  and enthusiasm in  the Declamation Competition held recently. They delivered the speeches of Swami Vivekananda "Sisters and Brothers of America"   and A.P.J. Abdul Kalam "Three Visions for India" .The criteria for judgment for the same were fluency, diction, memory and expression and all the participants impressed the audience with their wonderful presentation of the speeches. Athrava Sharma of VII B bagged the title of "Best Speaker". Everybody appreciated the efforts of the participants in making the contest a great success.
Vandana Sharma
Inter House Debate Competition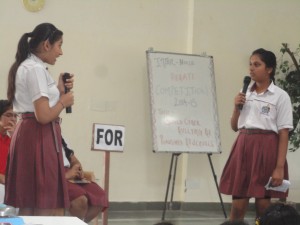 The Literary and Creative Skills Club at the Palace School hosted an Inter-house English Debate Competition.
The forum of discussion was- Should Cyber-bullying amongst students be punished by the schools.
Five teams of two contestants each, (representing different houses) participated in the debate (classes VI- IX).
The competition had three rounds- Presentation, Rebuttal and Judge's questions wherein the students put an incredible show and amazed the audience and the 3 judges- Mrs. Nandini Singh, Mrs. Shalini Sachdeva and Mr. Sushant Kochar.
The rebuttal round was the highlight and the competition concluded with Mrs. Shalini Sachdeva and the Principal addressing the children on "cyber ethics" and being responsible users of the internet.
The results were declared by the Principal; and the contestants of the Maharja Sawai Jai Singh II House- Isha Kothari and Tanisha Gupta bagged the first position with their spontaneous answers.
The Maharaja Sawai Ram Singh II  House stood second with the youngest participant "Aditya Kothari", who outshined the others and was also declared as the "Best Speaker" and Arihant Mittal who spoke for the motion.
The Maharaja Sawai  Man Singh II House stood third with it's participants Vaibhav Golani and Arsal Sheikh.
The title for the Best speaker was shared by Tanisha Gupta and Aditya Kothari.
It was a delightful and knowledgeable event that increased the students awareness on dealing with Cyber-Bullying.
Twinkle Godhwani