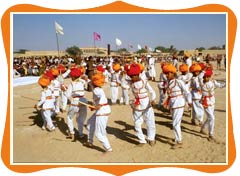 Life in deserts is not only different but also interesting. In order to give a glimpse of the desert culture, students of class V organised a Desert Festival with full zeal and vigour.The event began with a Tilak ceremony' and a warm welcome of the teachers by the popular Rajasthani song "Kesariya balam padharo mare desh". Girls dressed in vibrant  Rajasthani attire showcased the rich and colorful Rajasthani folk culture by performing a Ghoomar dance.
Apart from the cultural show a fabulous variety of mouth-watering  Rajasthani  dishes- Dal-baati churma,Mangodi,Gatte ki sabzi,  Missi-roti,Besan chakki etc were well arranged by the students as a treat for everyone. There was a separate section of Rajasthani handicraft items (Mandana) and the backdrop was decorated with the charts displaying the culture, food, festivals and life in deserts.
A joyous atmosphere was created when the students and teachers danced together  to the tunes of folk music. Our Principal madam, Mrs. Urvashi Warman interacted with the students, pricking their curiosity about the desert region. It was an exciting and interactive day for the students.
Vandana Sharma