From this year onwards The Palace School has offered scouting to the children of classes VI to VIII and we are proud to inform you that a 'Diksha Sanskar Ceremony' was held on the 6th of May for the children who have opted for scouting.
Commander Officer Mr. L R Sharma was the Chief Guest at the ceremony. Mrs Urvashi Warman, our principal presented a scarf to each of the scouts. Thereafter they took an oath under the guidance of Commander L R Sharma and Lady Scout Master Karuna S Trivedi.
Congratulations to the newly appointed scouts !!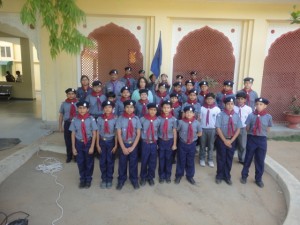 On 22nd of April, the scouts of The Palace School had visited the Scouts Headquarters of Jaipur, where they participated in an Art competition held on the occasion of the International Earth Day.
Akshat Jhalani of Class VII from our school bagged the third prize for the same.
Congratulations !!