The children of Level I celebrated Asia day in the most exuberant manner.
The tiny tots came gracefully dressed up in costumes of various Asian countries. The cultural fair was an event packed with energy and excitement.
The children represented countries such asPakistan, India, Saudi Arabia, Korea, Nepal, and Japan. Some children were dressed as Buddhist monks representing the countries where Buddhism is followed.
The ramp walk by the dynamic dudes and divas of our school was the higlight of the day as were the Japanese and Indian songs. The Indian song 'Radhe Radhe' had everyone swaying to their feet.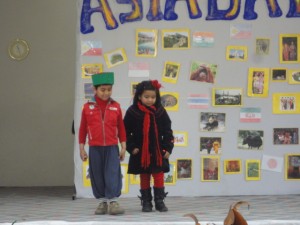 The little angels also danced to one of the ragas from carnatic music. The show ended  with Shahjahan and Mumtaz tableau.