The excitement in the school is palpable now. Each and every corner is alive with action-starting from the parking area within the school , moving on to the front lawns, basket ball court, football field, tennis court, dance hall, activity hall, library…..there is not a single place which is not a hub of activity either for practices or for making props. The only place which has a deserted look is the classroom !! There is a festive air all about.
One visit to the library makes one stand still. The entire library has got turned into a prop mart. A team of dedicated teachers sit here quietly working quickly, efficiently with nimble fingers, getting the props for the show ready. It is amazing to see how quickly they understand the requirement of every scene and are able to create the required prop within a couple of hours !! The show would not be possible without their beautiful handiwork.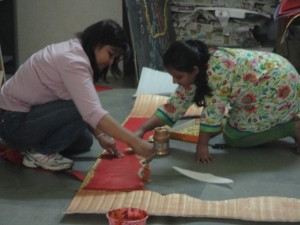 When I look at the work going on behind the scene, it resembles the working of a machine. Just as a machine would not be able to function without each and every part working in unison, similarly nothing would be achieved without each and every unit of the programme working in perfect harmony and I feel happy and proud to say that the working has been harmonious.
I thank all my teachers and students for working so enthusiastically and happily. I know everybody is stretched to their limits with all the hard work but what is appreciable is that the smile stays in their eyes and on their lips. I can safely say….we are ready for 8th November.
Are you ???
Sincerely,
Urvashi Warman