Grandparents are the epitome of values, culture , tradition and our rich heritage and what better way to honour and cherish them, than earmarking a day especially for them. It has been The Palace School tradition to celebrate Grandparents day for the children of all classes.
And oh what a lovely time all the Grandparents have with their loving grandchildren !! It is overwhelming to watch the twinkle in their eyes and the sparkle in their smiles on this special day.
Such was a much awaited day for both grandparents and grandchildren of class III of our school. Everybody was excited,grandchildren to showcase their multifaceted skills and grandparents to witness the 'apple of their eyes' perform so beautifully for them.
Traditional welcome by putting tilak and badges, prayers and welcome speeches paved the way for the beautiful function to commence.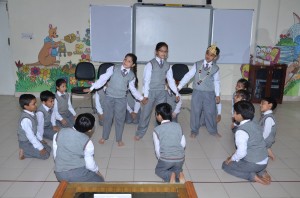 Songs, skits, dances (semi-classical and western), instrumental music, karate and yoga display, various games were the ingredients of the visual treat prepared especially for the grandparents !!
The quality time spent with the grandchildren was really significant for each of the grandparents as they usually miss this in the normal course of the days.
We wish all the grandparents and parents a happy , healthy and prosperous year ahead !!