Fruit Salad Activity
Children are the connoisseur of junk food these days. Therefore to encourage healthy eating habits in them The Palace School conducted a fruit salad activity for class I. The various fruits brought by the children to school were used and a healthy colourful and delicious salad was prepared for them in the school pantry.
The process of cutting and mixing up of the palate tickling salad was very exciting for the children to watch. They were then served the salad during brunch time which they truly relished as a feast with friends.
French Activity
Students of class VI & VII participated in various communicative activities based on their academic curriculum of French .The activities were as follows:
1. Role play in which they performed simulated dialogues in French based on their day to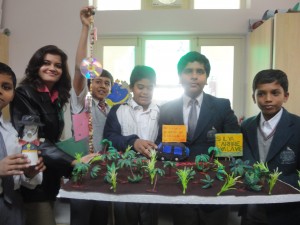 2. Best out of waste with the message of 'SAVE THE MOTHER EARTH'
Students created models with the theme of best out of waste and wrote French slogans.